Here you can find the different tire sizes along with recommended pressure ratings for all model years of the Mini Cooper.
You can also find the best replacement tires for this car as well further down the page (voted by our visitors).
Jump To:

Tire Pressure Info

Best Replacement Tires
Select Your Model Year...
Choose the appropriate model year for the Mini Cooper you are trying to find the tire pressure/size for from the list below.
Best Cooper Replacement Tires
Check out the best replacement tires for your Mini Cooper model voted by our visitors.
Mini Cooper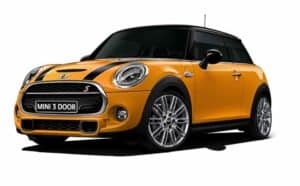 You can find the tire sizes for the Mini Cooper and their corresponding recommended tire pressures.
The years available stretch from 2005 through to 2022 and to view the tire pressures and sizes you just click to expand.
The Mini name can be traced back to the 1960s when it first appeared on the streets of its homeland, the UK.
It was a simple design with a small price tag that allowed many people to own their own car.
When many people think of the 1960s they think of this car, it carved out a place for itself in history by offering a fun and enjoyable ride.
Sales of the original car dropped over the decades until it was a rare sight on roads in the 1980s and 1990s.
At the end of the century, BMW purchased the Mini name from a British company after several failed revivals of models using the same nameplate.
This Cooper model name that the new Mini sub-brand of BMW uses for this line represents the generic model that they sell.
Originally the Cooper name was used for performance versions of the car to represent John Cooper who was the original creator of the model.
Underneath the car is a totally new platform that the German automaker created for the line that features a front-engine and front-wheel-drive design.
This goes against the rest of the range from that company which was known for its luxury and higher-performance rear-wheel-drive models.
BMW needed to reduce the average emissions produced by the cars they sell and to do this they acquired this Mini sub-brand instead of diluting their current luxury image.