What Is TirePressures.co?
---
Here at TirePressures.co we keep track of hundreds of the most popular models of car in the Western world and their tire sizes and recommended pressure ratings.
The data is updated as often as possible using our team of volunteers who search the web and inspect hundreds of owner's manuals.
To find the tire pressure you need for your car you can select your make/model below, from the dropdown above or start your journey on our search page.
You then need to find a tire pump strong enough to inflate to this pressure, usually at a service/fuel station with a very small token price for doing so.
Struggling to find the tire pressures and sizes for your car? Wy not fire us a message through our contact page to see if we can help.
What Do The Numbers Mean?
---
After you have found your make/model/year you will then be presented with a group of numbers and letters to identify which tires are fitted to your vehicle.
These numbers represent the size of the tire and based on this you can work out the pressure to inflate them to using our tables.
As you can see from our diagram below, the width, profile (width from the hub to the edge) as well as rim size are all contained in that code.
The speed rating lets you know the top speed that the tires are rated for, this is why some high-speed models have very expensive tires.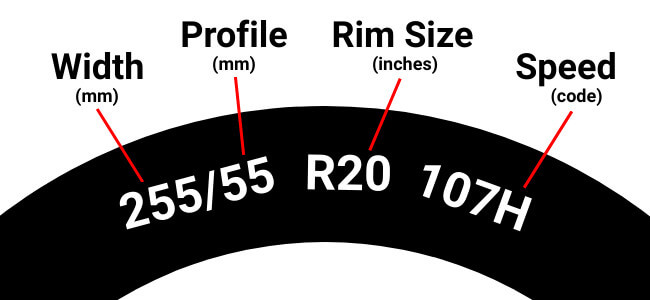 Popular Manufacturers & Models
---