Here you can find the different tire sizes along with recommended pressure ratings for all model years of the Peugeot 807.
You can also find the best replacement tires for this car as well further down the page (voted by our visitors).
Jump To:

Tire Pressure Info

Best Replacement Tires
Select Your Model Year...
Choose the appropriate model year for the Peugeot 807 you are trying to find the tire pressure/size for from the list below.
Best 807 Replacement Tires
Check out the best replacement tires for your Peugeot 807 model voted by our visitors.
Peugeot 807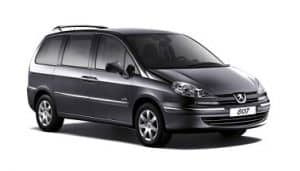 You can find the tire sizes for the Peugeot 807 and their corresponding recommended tire pressures.
The years available stretch from 1994 through to 2014 and to view the tire pressures and sizes you just click to expand.
The Peugeot 807 first joined the Eurovan range in 2002. It then remained on the market until its discontinuation in 2014.
As with all Peugeot offerings, its name indicates that it is the successor to the 806, which first debuted in 1994.
During their time on the market, both versions fell into the passenger carrier or multipurpose vehicle class.
As mentioned, the 807 is a part of the Eurovan range. This means that it, along with the Citroën C8 and Fiat Ulysse, are all essentially the same model with different badging. All of these Eurovans are built at the same factory, the Sevel Nord factory in France.
Competition from manufacturers outside of PSA Group and the other Eurovans includes the Ford Galaxy and Renault Espace.
The Peugeot 807 was offered in four different trim levels. These were the base LX, followed by the GLX, Executive, and the premium Executive SE.
The different trim packages came with the option of various powertrains.
Peugeot offered the 807 with the choice of two diesel and two petrol engines. However, these engines were simply different versions of the same 2.0 L powertrain and were tuned for varying power outputs. There was also a 2.2 L version released. Some of these engines were turbocharged.
Initially, transmissions consisted of only a 4-speed automatic or a 5-speed manual at the beginning of production. A 6-speed manual option was introduced in 2005 for certain markets.
The Eurovan range was discontinued at different times for various reasons. This meant that Peugeot ceased production for the Peugeot 807 to make way for new models.