Here you can find the different tire sizes along with recommended pressure ratings for all model years of the Chevrolet Sonic.
You can also find the best replacement tires for this car as well further down the page (voted by our visitors).
Jump To:

Tire Pressure Info

Best Replacement Tires
Select Your Model Year...
Choose the appropriate model year for the Chevrolet Sonic you are trying to find the tire pressure/size for from the list below.
Best Sonic Replacement Tires
Check out the best replacement tires for your Chevrolet Sonic model voted by our visitors.
Chevrolet Sonic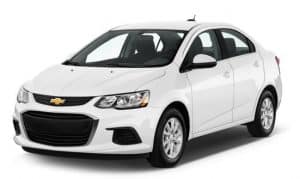 You can find the tire sizes for the Chevrolet Sonic and their corresponding recommended tire pressures.
The years available stretch from 2012 through to 2020 and to view the tire pressures and sizes you just click to expand.
In North America, this car is sold as the Chevrolet Sonic but outside of it, you will find it marketed as the Aveo.
Both models are nearly exactly the same and are classed as subcompact cars, a type of car that is very small in size.
Production started back in 2002 as the American automaker needed a replacement for several subcompact lines, including the Metro and Lanos.
The original model was developed by Daewoo before they went bankrupt and were bought out by General Motors, leaving the line to be branded under the Chevrolet name.
You could buy the original Sonic as a hatchback or sedan, with the sedan version being very similar apart from a boot poking out of the rear.
For a short while, the first-generation car was sold as the Chevrolet Cobalt to the booming Brazilian market too.
In 2012 the line saw some vast changes as it entered into its second generation - moving to the highly-developed General Motors Gamma platform.
This platform was already in use under many popular models across the world including the Opel Corsa, Chevrolet Trax and the Chevrolet Spark.
It was a larger car with more powerful engine options and inside of the car the manufacturer had managed to pack many more features.
Thanks to a facelift in 2021 you could now find LED headlights and connectivity for Apple and Android devices in the new Sonic.