Here you can find the different tire sizes along with recommended pressure ratings for all model years of the Honda CR-V.
You can also find the best replacement tires for this car as well further down the page (voted by our visitors).
Jump To:

Tire Pressure Info

Best Replacement Tires
Select Your Model Year...
Choose the appropriate model year for the Honda CR-V you are trying to find the tire pressure/size for from the list below.
Best CR-V Replacement Tires
Check out the best replacement tires for your Honda CR-V model voted by our visitors.
Honda CR-V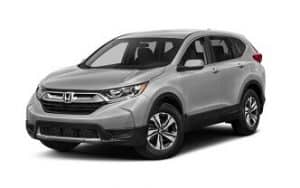 You can find the tire sizes for the Honda CR-V and their corresponding recommended tire pressures.
The years available stretch from 2005 through to 2021 and to view the tire pressures and sizes you just click to expand.
One of the original crossover SUVs that kick-started the new segment of the auto market, the Honda CR-V entered production in 1995.
To create this new type of vehicle Honda took the Civic chassis and planted an SUV-like body on top of it.
What this created was a super practical car with low running costs - bearing the benefits of a traditional SUV.
Initially, the car was offered only in Japan where they love smaller and lighter versions of cars - mainly due to taxes and the high cost of fuel there.
It quickly spread around the world and led to many other manufacturers building copycats and spawning other segments of this crossover SUV market too.
Over the years the CR-V has gone through many redesigns as the Japanese automaker discovers what it is that helps these models sell.
In more recent years the car has moved away from its rugged design and into a much sleeker one that appeals to a larger market.
Thanks to its sharing its technology with the Civic, the car has many engines, transmissions and features available.
Modern examples of the Honda CR-V are fitted with 19-inch alloy wheels as standard on the higher trims and 18-inch alloy wheels for the lower trims.
Inside the modern versions of the car you will find heated seats, wireless phone chargers and the company's range of driver aids that help reduce injuries during collisions.