Here you can find the different tire sizes along with recommended pressure ratings for all model years of the Hyundai Elantra.
You can also find the best replacement tires for this car as well further down the page (voted by our visitors).
Jump To:

Tire Pressure Info

Best Replacement Tires
Select Your Model Year...
Choose the appropriate model year for the Hyundai Elantra you are trying to find the tire pressure/size for from the list below.
Best Elantra Replacement Tires
Check out the best replacement tires for your Hyundai Elantra model voted by our visitors.
Hyundai Elantra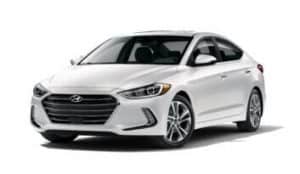 You can find the tire sizes for the Hyundai Elantra and their corresponding recommended tire pressures.
The years available stretch from 2005 through to 2022 and to view the tire pressures and sizes you just click to expand.
The Hyundai Elantra first appeared in 1990 as the company sought out a replacement for the Stellar line.
It came into production as the company's new compact car, a segment of the market that can see huge sales.
For some countries outside of North America, it can act as the most important segment and is dominated by models such as the VW Golf and the Ford Fiesta.
During its lifetime the Elantra has been sold as mainly a sedan but for certain generations, it has also been offered in a station wagon style.
It started out as a budget alternative on the market, like many other Hyundai lines but in recent years it has climbed due to improvements in the quality and features.
In 2020 the seventh-generation Hyundai Elantra was launched and was now being built on the K3 platform.
That K3 platform is unique to the Elantra but the shorter K2 version is used under the Accent and the Kia Rio.
All of these modern versions of the car are sold as 4-door sedans and can be fitted with one of a long list of gasoline engines.
You can also find some of the current models offered with a liquefied petroleum gas engine, useful for cutting down on fuel costs.
A new hybrid version of the car boasts a 54mpg and can maneuver around a parking lot on electricity alone.