Here you can find the different tire sizes along with recommended pressure ratings for all model years of the Nissan Murano.
You can also find the best replacement tires for this car as well further down the page (voted by our visitors).
Jump To:

Tire Pressure Info

Best Replacement Tires
Select Your Model Year...
Choose the appropriate model year for the Nissan Murano you are trying to find the tire pressure/size for from the list below.
Best Murano Replacement Tires
Check out the best replacement tires for your Nissan Murano model voted by our visitors.
Nissan Murano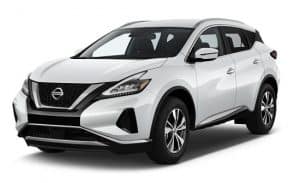 You can find the tire sizes for the Nissan Murano and their corresponding recommended tire pressures.
The years available stretch from 2005 through to 2021 and to view the tire pressures and sizes you just click to expand.
Production of the Nissan Murano began back in 2002 for the 2003 model year.
It is a mid-size crossover SUV that uses the Altima/Maxima platform as its base but with a taller SUV-like body on top.
Historically, the car has been offered with only a small range of engine options across its three generations of design.
Usually, you have been able to choose a V6 or an inline-4 option, a diesel variant was only offered during its second generation.
During its second generation, a convertible version with a fabric roof was offered that was called the Murano CrossCabriolet.
The most recent version of the Murano is the third generation that came into production in 2014.
A hybrid version of the car came in during the 2016 model year and was fitted with the company's pedestrian alert system when in electric mode at low speeds.
This hybrid version of the car is only available as the inline-4 engine and doesn't have any reduced interior space thanks to clever engineering.
In 2019 the line received a facelift that modified both the inside and outside of the car.
Then in 2020 Nissan installed many new safety features into the Murano including automatic braking systems and a blind spot warning system.