Here you can find the different tire sizes along with recommended pressure ratings for all model years of the Toyota Camry.
You can also find the best replacement tires for this car as well further down the page (voted by our visitors).
Jump To:

Tire Pressure Info

Best Replacement Tires
Select Your Model Year...
Choose the appropriate model year for the Toyota Camry you are trying to find the tire pressure/size for from the list below.
Best Camry Replacement Tires
Check out the best replacement tires for your Toyota Camry model voted by our visitors.
Toyota Camry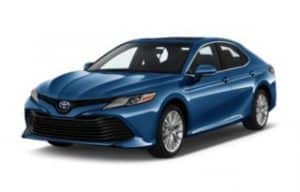 You can find the tire sizes for the Toyota Camry and their corresponding recommended tire pressures.
The years available stretch from 2005 through to 2022 and to view the tire pressures and sizes you just click to expand.
The Toyota Camry was launched in the early 1980s as a replacement for the Corona line, which was discontinued in 1983.
It was built at the Toyota Takaoka plant in Japan, alongside the Corolla and Tercel models of the time.
The initial models were powered by 1.8-liter and 2-liter engines with rear-wheel-drive until 1986 when a four-wheel drive system became an option.
1.6-liter engines were added to the range from 1990 to 1997, with a 1.8-liter engine added in 1993 and a 2.2-liter engine joining the range from 1994 to 1997.
Since its launch, several generations of the Camry have been produced, with each becoming increasingly different than the previous.
The name "Camry" was derived from the Japanese "kanmuri", meaning "crown" and referred to the shape of its roofline.
Originally the first-generation car was released with five original trim packages: XL, ST, XS, SX, and SE.
In Japan, it was exclusive to Toyota Corolla Store locations.
When production began, the Camry became the largest car that Toyota had ever produced.
The market response was positive, and it outsold the Corona comfortably, with sales of 424,000 units for the first full year of sales in Japan rising to 636,000 units sold during 1985 and peaking in 1989 at 810,000 units