Here you can find the different tire sizes along with recommended pressure ratings for all model years of the Toyota Corolla.
You can also find the best replacement tires for this car as well further down the page (voted by our visitors).
Jump To:

Tire Pressure Info

Best Replacement Tires
Select Your Model Year...
Choose the appropriate model year for the Toyota Corolla you are trying to find the tire pressure/size for from the list below.
Best Corolla Replacement Tires
Check out the best replacement tires for your Toyota Corolla model voted by our visitors.
Toyota Corolla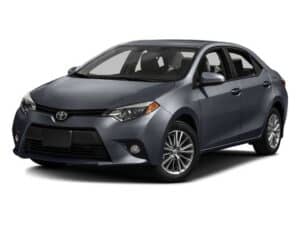 You can find the tire sizes for the Toyota Corolla and their corresponding recommended tire pressures.
The years available stretch from 2005 through to 2022 and to view the tire pressures and sizes you just click to expand.
The Toyota Corolla holds the title of best-selling automobile ever after stealing it from the VW Beetle in 1997.
Sales of the car began in 1966 as the Japanese automaker looked to replace the Publica as the company's new subcompact car.
This original Corolla was very basic and won an audience of fans thanks to its low-cost manufacturing - something Toyota is known for.
A low price point paired with an acceptable level of features included as standard helped the model quickly spread across the world and eventually into the US.
The car went through a major redesign almost every 5 years and evolved with the market, eventually growing in size to become a compact car in the early-1990s.
This was also copied by major competitors Honda with their Civic line - probably the Toyota Corolla's biggest rival.
In recent years the car is not only sold as a hatchback (like previous generations) but also available in practical sedan and station wagon layouts too.
This newer model shares its chassis with many other models from Toyota including the much smaller C-HR subcompact crossover SUV and the larger RAV4.
The Corolla name has been put to use in the massive crossover SUV market in recent years too - a spin-off called the Corolla Cross entered production in 2020.
Most of the non-base trims for the latest model include alloy wheels as standard to match the sleek design of the body.