Here you can find the different tire sizes along with recommended pressure ratings for all model years of the Kia Soul.
You can also find the best replacement tires for this car as well further down the page (voted by our visitors).
Jump To:

Tire Pressure Info

Best Replacement Tires
Select Your Model Year...
Choose the appropriate model year for the Kia Soul you are trying to find the tire pressure/size for from the list below.
Best Soul Replacement Tires
Check out the best replacement tires for your Kia Soul model voted by our visitors.
Kia Soul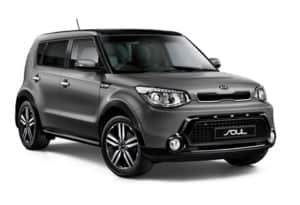 You can find the tire sizes for the Kia Soul and their corresponding recommended tire pressures.
The years available stretch from 2010 through to 2022 and to view the tire pressures and sizes you just click to expand.
The Kia Soul was the South Korean automaker's first subcompact crossover SUV model.
Production of the original Soul began in 2008 using the Hyundai-Kia PB chassis that is also used under the Hyundai Accent and the Kia Rio.
The model is now in its third generation which came into production in 2019 and the style of the car has barely changed during this time.
Its unique styling is said to have been inspired by the shape of a wild boar carrying a backpack which explains the tall greenhouse look.
Up until the recent third generation the Soul was available with a wide range of both gasoline and diesel engine options, recently the diesel option was dropped.
This newer version of the car now shares its platform with the Hyundai Kona, a similar-sized subcompact crossover SUV from its partner company.
Alongside the traditional internal-combustion-engine driven version of the car is an all-electric variant too.
Kia has branded this the Soul EV, which first became available in 2014.
Modern versions of the EV version of the car (2020) are said to be able to achieve an impressive 243 miles in range on a full battery.
This is an impressive jump from the 93 miles it could achieve just 4 years previously in 2015 - showing just how quickly battery technology is advancing.
The Soul is being discontinued in certain markets such as South Korea as Kia finds their new subcompact crossover SUV the Seltos is selling better.